Frequently Asked Questions
Please refer to the list below to find answers to some of the most commonly asked questions.
Do you represent insurance companies?
Mackesy, Smye does not represent insurance companies. As the region's largest firm practising exclusively for victims of personal injury, we are in a position to devote ourselves entirely to protecting the interests of injury victims and their families.
What fees will I have to pay?
After suffering an injury, often a person will experience income loss or other problems with carrying on with their day-to-day activities resulting in significant changes to their lives. At such a difficult time, legal fees should not create an additional burden. At Mackesy, Smye, we know that an injury or fatality in the family can wreak havoc and that legal fees can only compound the problem. This is the reason that we provide our services to you on a "contingency" basis. This means that you will not have to pay legal fees to us until the successful resolution of your case. This arrangement will be formalized when our firm takes on your case. In the course of resolving your claim, we will ensure that you are aware of what your net recovery will be after all fees, disbursements, and taxes are paid.
The maximum contingency fee that we will charge is 30% plus HST. There may be a rare exception to this rule, such as in an unusually complicated medical malpractice case, where our contingency fee would be a higher percentage, but we would fully discuss that with you before you sign any contingency fee agreement.
How long do cases take to resolve?
We will discuss this with you in detail at your free consultation but you should be aware that there are certain unavoidable delays associated with certain types of cases. Each case is different, depending upon its facts and generally the time required will depend upon the extent of your injuries and the nature of your recovery. In order to ensure that your claim is resolved fairly, our firm will ensure that we have received as clear a picture as possible of your long range medical prognosis before resolving your case with your instructions.
What kind of recovery can I expect?
Each case is different. Your lawyer will consider the impact of your injuries upon your quality of life and income earning potential. Once these factors have been determined, we will then be in a position to advise you about the compensation that you can reasonably expect to receive upon resolution.
Do I still have a case if I was "at fault"?
You may be entitled to recover some benefits from your insurance company, regardless of fault. Depending upon the extent of fault, this may be a complex question and you should seek specific legal advice from Mackesy, Smye with regard to the facts of your specific situation.
What does a personal injury lawyer do?
Personal injury lawyers deal with a wide variety of cases, all of which involve protecting the rights of clients who have been injured or have suffered the loss of a family member as a result of the negligence of someone else. We use our knowledge and experience to help you obtain appropriate compensation for your injuries from insurance companies, governmental bodies or professional organizations or businesses, who may be at fault. At Mackesy, Smye, we help people who have been injured in car accidents and other motor vehicle accidents, pedestrian accidents, slips and falls, medical malpractice, dental malpractice, boating accidents, premises accidents, or as a result of product liability amongst many other types of claims. Our law firm also has the expertise to assist you with Canada Pension Appeals, to represent victims of police negligence and to help families dealing with the aftermath of a fatal accident.
Can I claim medical expense?
Yes, as we work to resolve your claim, we will consider any anticipated rehabilitation or home care costs that may arise in the future. You can set these funds aside and keep them in reserve to pay for any future medical costs that may arise.
Get Hamilton's Top Personal Injury Law Firm Working For You - Call Or Complete Our Secure Contact Form To Book A Free Consultation Today.
Mackesy Smye understands the sensitive nature of the information provided by our clients. In recognition of this fact, we have implemented SSL technology to our secure contact form. Your data will be carefully encrypted before it is transmitted over the internet.
I have read, understand and agree with the following:*
The materials provided on this site are for information purposes only. These materials constitute general information relating to areas of law familiar to our firm lawyers. They do NOT constitute legal advice or other professional advice and you may not rely on the contents of this website as such.
The contents of the website do not necessarily represent the opinions of Mackesy Smye LLP or its clients. If you require legal advice, you should retain competent legal counsel to advise you. Please be advised that the act of submitting an email through this website does not create a solicitor-client relationship between you and our firm nor does it constitute a retainer between us. If you would like to retain Mackesy Smye LLP, please contact one of our lawyers, who will be pleased to discuss whether our firm can assist you. A solicitor-client relationship will arise between you and our firm only if we specifically agree to act for you. Until we specifically agree to act for you on a matter, you should not provide us with any confidential information or material.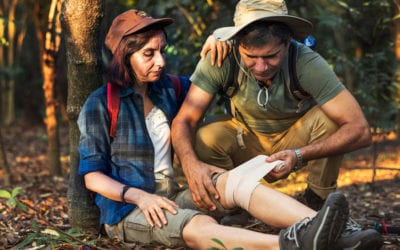 Personal Injuries in Provincial Parks – do you know what to do if you get hurt at a provincially run campground this summer? And what about deadlines? Learn who's accountable and how quickly you need to consult with a lawyer.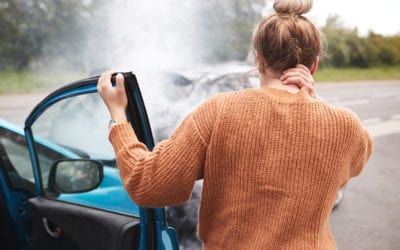 Whiplash is perhaps the most common injury associated with auto collisions. But many insurance companies are suspicious of whiplash claims and will do anything to deny payment. Read the full article to learn more.
Don't Self-Sabotage on Social Media – the defence is looking to discredit you, and you might be giving them everything they need. Use social media responsibly during your trial so that your posts can't be used against you – read the full article to learn more.